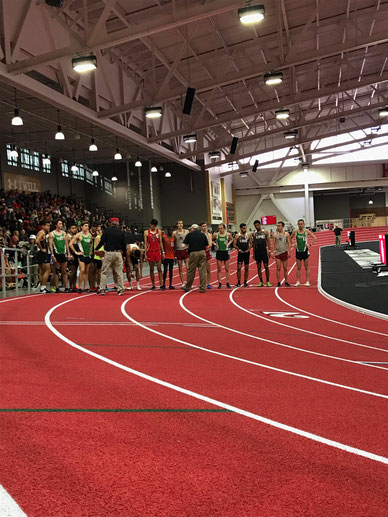 Falling short of my expectations in my second 3000m of the season. The time of 8:36 and 3rd position matched my season opener two weeks ago. 
My second race of the season took place in Lubbock, Texas. My plan was it to race an even paced race to finally run sub 8:30. The start went pretty well and after the first turn I found myself in perfect position, right behind the leader on lane one. The same time I was also a bit tucked in since there was another runner right next to me. Because of that, I mainly focused on having enough space while running the banked turns. The first kilometer was a little slower than expected and on the next lap the first guy attacked. At the same moment I saw the chance to sneak pass the guy infront of me, on the inside line. This brought me into the perfect position as first chaser. But instead of running more offensive I stayed passiv and I lost several positions. The second kilometer was even a bit slower mainly because of all these position changes in the chase pack. I entered the last kilometer in seventh position and was able to work my way up to third position. I finished in a time of 8:36 which was around the same as two weeks ago.  
I am pretty disappointed with this result because I had some really good weeks of training and expected way more from that race. The fact that I will get a altitude conversion for the NCAA best list doesn't make the result any better either. But this is how running goes sometimes. My coach just mentioned that he may plans to take me to Norman next weekend which will give me the next opportunity to run a fast result.