As season kick off, I finished in College Station in third position and was just 5 seconds short of my 3000m personal record.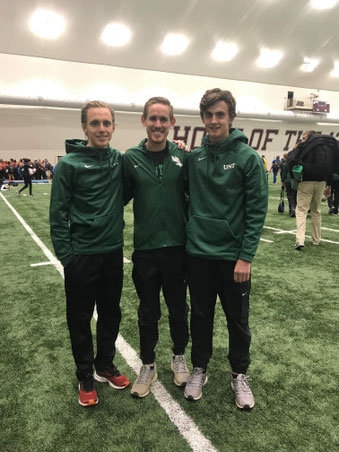 Last Friday, my team and I travelled to College Station. In the town of A&M there is one of the most modern indoor track facilities in the Nation so the perfect place to get back the racing atmosphere. My coach decided to put me into the 3000m race with two other teammates which was perfect to me. I already competed in that event at the last years event so it was the perfect chance to compare my current shape to last years performance. 
Contrary to last year, my last week of training was pretty intense which followed that I was last definitely more recovered last year. But for years season opener the emphasis was more on a hard workout than to post a fast time. 
Thanks to my young teammate, the pace was from the gun perfect. We split 2:51 on the first kilometer and we already had a gap to all the other athletes. In the whole race I was able to run pretty constant lap times from 34 to 34.5 seconds. Unfortunately, I just wasn't able to go into another gear while my two teammates were able to increase the pace at the end. Following that our team perfect scored the race with the places 1 to 3 with me in the third position. 
The time of 8:36 was a little slower than last year but considering that I am currently in a other phase of training, I can be satisfied with that result.
Next Stop: Lubbock 01/26-27/2018