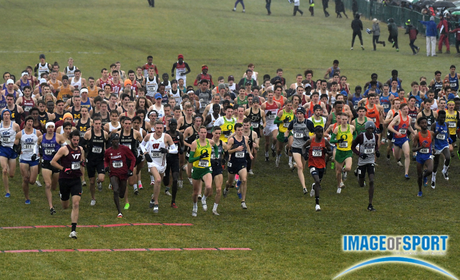 In my second attempt at NCAA Cross Country Championships in Terre Haute, Indiana, I could not find the right strategy to satisfy my expectations.
My second NCAA Championship race took place on one of the most iconic cross country courses in the USA. The course's was solely build to host cross country meets and its dimensions are impressive: 800m start straight, 90m wide start line and a hilly 5k loop which had to be run twice. This weekends wet conditions made the course to one of the most challenging races I have ever competed in. 
The race itself is highly unique due to its high level of competition. Racing 255 of the best US distance runners turn the start to one of the essential parts of the race because if you aren't in the right position after the first turn, you race is pretty much over. Since every runner knows that, the first straight is always really quick. I managed to get a solid start and passed the first kilometer in 2:45. I was really content with that position and decided to safe some energy since there was still nine kilometers to run. I paid for this momentary passive racing mindset and lost within the next two kilometer around 50 spots. In the next kilometers I tried to make up some ground again but I was stuck in that placing and finished the race in quite disappointing 153rd position. I missed the goal to finish top 100 by only 20 seconds which shows the depth of the competition.
Looking back, I definitely should have attacked the second and third kilometer more than I did. During the race, it was really difficult to me to orient myself. I had no idea in what position I was running in. The special part of this race is, that there are barely any gaps between runner so places 80 to 150 are pretty much one group. Over time this group started to string out without me even realizing it. I think, it would have helped a lot to run in a position around 80th at 3k which would have allowed me to float along, while I had to try to catch up to the pack. Since I already had a similar situation in my past year, I am definitely not satisfied with how I represented myself on that stage. But in the end I can't change the race but just take the experience with me for future races. I am grateful I had another chance to represent UNT in that big stage. Racing two NCAA National XC championships has been an amazing experience and I can't wait to start my build up for track.