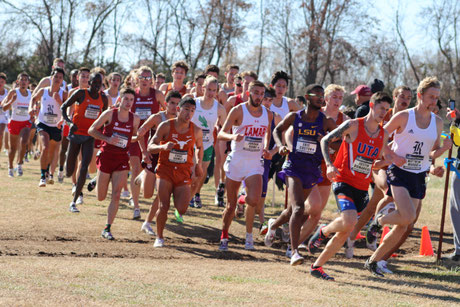 Finishing 7th at the NCAA South Central Championship in Fayetteville, Arkansas, secured me my second individual qualifier spot for NCAA Nationals. 
It is a rare that I am really nervous before races but for this time was different. There was a lot on the line at the NCAA Regional Championships: only four individual athletes will get the chance to compete at nationals which is my main goal since several months. Additionally, I also knew this is my senior year following that one of my final cross races for UNT.
The XC season is definitely one of the main reasons, why I choose to run in the US, to extend my season by one more race was my only goal. 
The gun went off and there was no more time to waste any thought about all that. I was on a mission. My first few meters were not fantastic, which followed that I had to accepted to run in the third row for a while. Since the pace was quite slow, the leading group was packed. We ran so compact that I had no chance to see were I place my next step nor where the next turn will be. The risk to fall was quite high, that's why I tried to chance my position as fast as possible. After around a mile, I was finally in a comfortable position and I could focus on running relaxed. The race was still really controlled and not really quick, but right before the halfway point, the first pace changes split the front pack. I missed the right moment and found myself chasing a group of eight including four guys which were competing for an individual qualifier spot. I kept my focus on the group and tried to gradually close the gap which did not work that well. I could not quite close the gap over the next kilometers but I saw, that several of the guys started to slowly fade back which gave me another opportunity. With two kilometers to go I already found myself in a direct qualifying spot, but I the next chasing pack was only ten seconds behind me. I attacked the last hill and tried to catch one more guy to make sure I am in. Just a few meters before the finish line I actually caught up to one more guy which put me into 7th position in a time of 30:22. 
After the race, I was mainly relived that I made the cut. My focus was always to race well at nationals, but I was aware there are several talented runner in my region. I knew it won't be easy, especially after facing some minor muscular issues the last few days before the race. The shape is there, now I will have eight days to recover and get my muscles back to 100%. I am really excited to get another opportunity to race in this highly competitive race! 
All details about the NCAA National Championship will be posted on Thursday.