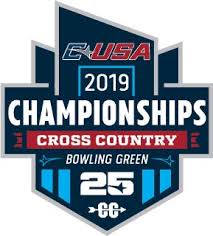 Last weekend, I finished 8th at the Conference USA Cross Country Championships in Bowling Green, Kentucky.
The race in Kentucky took place in a small park and to my surprise reminded me strongly on European cross country courses. There were large gravel sections, tight turns and several steep and challenging hills in this course, which is quite different to the usual wide, fast courses here in the US. 
I started the race pretty well and positioned myself in the leading group. As it is normal in championship races, the first kilometer was not that quick and the big group of runners was pilled up in a tight pack. Most runners reacted frantic to every move that was made in the front of the pack, while I decided to stay out of these games and try to conserve some energy. Over the next kilometers, the leading pack started to get smaller and I started to move up. With around two kilometers to go, Middle Tennessee pressed on the pace and I could not follow anymore. Right before the finish straight, I was able to catch up to one of the guys falling back from the front but he managed to sprint me out in the last few meters.  Über die nächsten Kilometer wurde die Spitzengruppe immer kleiner und ich schnappte mir einen Läufer nach dem anderen. This followed that I finished the race in 8th position with a time of 25:18.
Looking at the result, I am not fully satisfied with my performance. In the days before the race I dealt with some heel issues which followed that my focus shifted for a few days to my health instead of preparing for the race. Luckily, I was able to get this issue under control and I am ready to attack my regional championship this Friday.