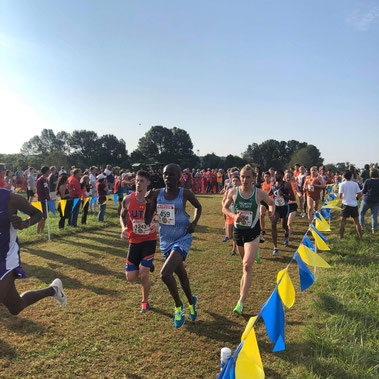 Satisfying season opener at Chile Pepper Festival in Fayetteville, Arkansas after some rough weeks.
The past weeks of training did not quite go as planned: issues with my IT-Band forced me to alter my plans which meant that I missed out on the first race of the season and my training looked quite different as planned. Luckily, we found a way to treat my tendon and since two weeks, my training has been surprisingly good. Following that, we decided to race the first big race of the season. I was quite excited about that!  I really enjoy racing and the Chile Pepper Festival is just a special experience to compete in. Its a two day event with various categories and the college race even had to be split into two heats since 80 teams entered! Additionally, most of the regional teams were attending which was a great opportunity to see where I am at with my training despite not perfect preparation.
I started quiet aggressive, since the start is really important in a race with more than 300 athletes on a narrow course. I took the first corners with only a few athletes ahead of me, ran up the hill and passed the first mile marker in 4:44 and 16th position. After that, I decided to run the middle part a bit more conservative since I only ran three proper workouts in the past month and I had no idea how I would feel in the second part of the race. This followed, that steadily lost some positions but I stayed focused and started to push with 3k to go. I overtook a few athletes while some were able to pass me, which followed that I finished in 33rd position in a time of 24:35.
After those difficult weeks of training, I am quite satisfied with my performance especially since I was 30 seconds faster than last year. There are still a few athletes from the same region ahead of me, but I still have six week to prepare for Regionals, which will be the qualifying race for NCAA Nationals. For now, I will focus on some solid training and will enter another competitive meet in two weeks.