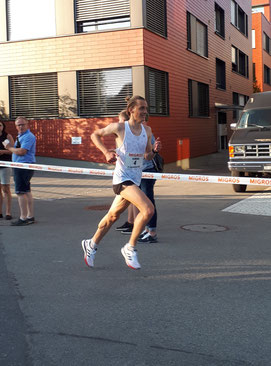 As part of my season preparation, I tested my shape against strong competition at Ägeriseelauf. 
After two training weeks in the high altitude of St. Moritz, I traveled to Oberägeri to compete in this 14.1k race around the lake. Right from the first meter, Tadesse Abraham, national record holder in marathon, took the lead irresistible to win the race in course record time. Behind him, a chase group formed with Marcel Berni and Adrian Lehmann, I tried to hang on to this pack because within a short time the gap to the 5th place runner was quite big and I did all I could to run in a group. We passed 3k in 9:00 which was definitely a bit too fast for me and shortly after I had let those two guys go since there were still ten more kilometers to run. Luckily, I kept those two guys in sight and I saw in the second part of the race that I started to close the gap to Lehmann. I finished the race 20 seconds off the podium in a time of 45:12 in fourth position.
Overall, I am quite satisfied with the race, I averaged 3:12 per Kilometer, risked something in the beginning and finished strong. I am currently training quite hard and following that I did not feel fresh coming into that race. Now, I will spend two more weeks in St. Moritz and will fly back to the US shortly after that for my final cross country preparation.