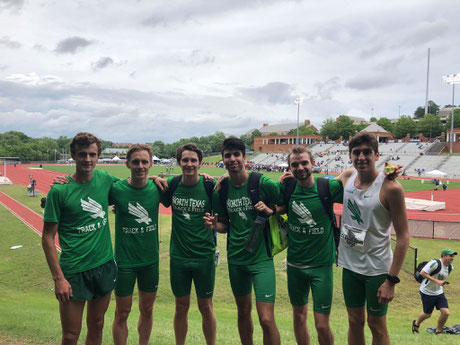 Disappointing 8th and 9th place finishes at C-USA Championships in Charlotte, NC.
As our season highlight, UNT Track & Field traveled to Charlotte, NC to compete in the C-USA Championships. Like last year, I competed in both the 10000m and 5000m. My goal was it to fight for medals and get as many points for the team by finishing in the top 8. My first race over 25 laps turned out to be a rough fight which I finished in 9th position. Two days later, I met my minimal goal by finishing 8th in the 5000m race.  
Despite great shape, this week was one of the harder ones this season. A few days before my first race, one of the muscles in my hip tightened up which made it impossible to train without pain. Since this championship has a high priority, I tried to push through it and raced in both events. During the race, my hip felt alright for both races but my mindset was definitely not how it should be to compete against such strong athletes. I was concerned about my muscle and my health which felt like a blockade during the race. Following that, the results were quite below expectations.
Luckily, I was able to release my muscle in the mean time and I am back in the usual training rhythm. I am certain, I have learned a lot this weekend which will help me to handle adversity like that better in the future. Since the training is going pretty well again, I have already some more plans and goals for this track season, which I will announce as soon as I know all the details.