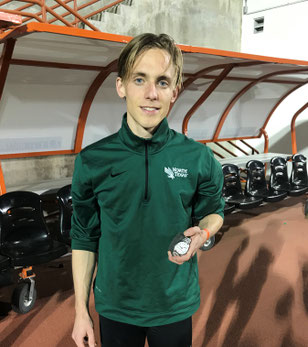 To kick-off my 2019 outdoor season I competed at the prestigious Texas Relays in Austin. 
After a great month of training, I was really motivated, self-confident and excited for my season opener. Last year, I finished third in the same meet so my goal was to win it this year. The 5000m field seemed to be as competitive including a few guys with similar personal records so my chances for a win were definitely there.  
The race started fast but as soon as we hit the head wind for the first time the pace slowed quite a lot. I positioned myself in second position, but after a little more than 900m in the race, I decided to take the lead for the first time. I tried to keep the pace consistent and to relax myself in the headwind sections. I regularly checked on the shadows following me. No one tried to challenge me for the lead and with 5 laps to go, I realized that there was already a gap to the runner in second. Which followed, that I won the race in 14:33.
Obviously, I would have prefered to show my good shape with a fast time but with leading 10 laps without any pressure it was difficult to push myself to the limit. Overall the race was definitely a good start and I am sure I will enter a race with strong competition and optimal wind conditions at some point this season.
P.S. I am already really excited for my next race: The inaugural North Texas Classic. It will be the first meet on our new, mean green track which just go finished a few days ago.