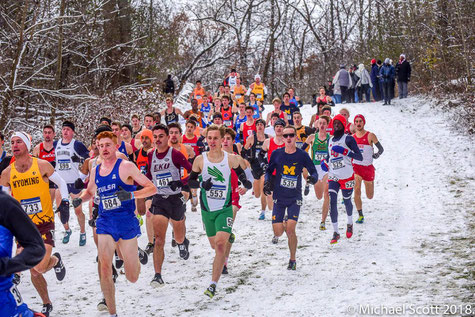 On my first NCAA Cross Country Championships, I did not meet my expectation with a  finish in 149th position.
Only eight days after my qualifying run at NCAA South Central Championships, I competed at my first National Championships  in Madison, Wisconsin. The race was held on the magnificant Thomas Zimmer Cross Country Course, built by the University of Wisconsin. The surface of the course was, other than in most European races, perfect: solid and without holes made it feel like running on a fast road. Nevertheless, the course was pretty challenging with around 900 feet of elevation gain within 10 kilometers. Since this race is widely unkown in Switzerland, here's a brief explanation:
At NCAA Nationals, the best 31 Division I University teams plus 36 Individual-Athletes compete to crown their champions. Following that, there are 255 of the best student-athletes racing each other, which makes this meet one of the most competitive and largest cross country races in the world.
From box 16, I started decent in the race, but everyone else started as well as I did or even faster. First, I tried to follow the impressive pace but was a little bit too cautious, thinking about the 9500m to come. Following that, I passed the 2k-Marker in 183rd position, far off of my intended top 100 place. In the following miles I was able to move up in the field but not quite as well as I was hoping to. I finished the race in a disappointing 149th place. 
At the end, it was definitely an awesome experience, the dimensions and competition was much bigger than I am used to and I will learn out of my mistakes in the racing strategy which will defnitely help me in future championships.