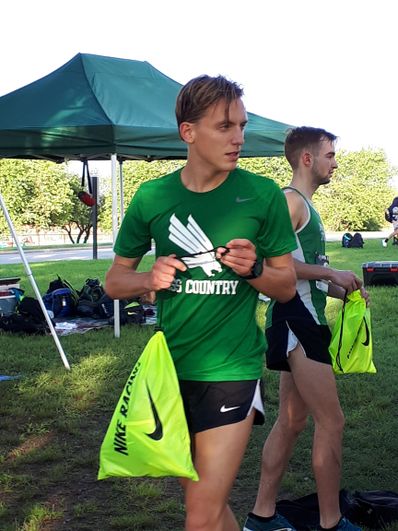 In the past two weekends, I started my racing season with the Ken Garland Invitational and Chile Pepper XC Festival. 
After months of great training, I was excited to compare myself with other competitors.  My first race took place on our home course, the Ken Garland Invitational. With just five teams, it was the perfect way to kick off the season and to my luck, there were some athletes with more impressive achievements than my own, so I had someone to chase. The races started off pretty relaxed but after the first mile a group of five, including myself, started to pull away. My teammate, Jack, pushed in the hills, while the rest of the group pushed in the flat sections. Despite several efforts, the group stayed together until 1000m to go where it started to spread out. I made my move on the final straight and was able to win the race. 
Just one week later we toed the line again, at the Chile Pepper XC Festival in Fayetteville, Arkansas. This race, with its 50 teams and 450 athletes, was definitely another level and following that the race started out pretty fast. Since it is important to get out well, our team goal was it to be up in the top positions, which worked out really well: At the one mile split we were ranked on the surprising second position in the team standing. Since we barely did any fast workouts yet, I felt this aggressive start much earlier in my legs than I am used to and the rest of the race was a struggle. Despite losing a few positions, I was able to maintain a steady pace and I finished in 23rd position, around one minute slower than the winner. Obviously, I would have preferred to run a bit faster, but at that point of the season and with the aggressive tactic, I definitely can be happy with the race. Thanks to our aggressive start, our team was able to finish the race in a strong fourth position! This year, we are just eight men in our team but every single one is stronger than ever. I am really excited for the rest of the season, because I am confident we can surprise some people.

Our next three weeks will be based on hard training and a little studying which will prepare us perfectly for the big races coming up.