I earned at the Conference-USA Championship in Charlotte, North Carolina, my first All-Conference honor by finishing 18th.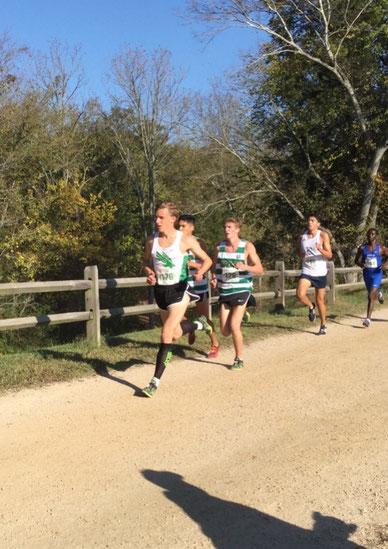 The last weekend, I competed in my first conference championships. North Texas is part of the Conference USA. In this league the strongest Cross Country Teams are the University of Texas El Paso (UTEP) and Middle Tennessee (MT), with each seven Kenians in their roster. Both teams are among the Top 30 Teams in the Nation. Next to those two teams the league includes for example the universities of Charlotte, Rice or Marshall. In championship races the team ranking is the most important part. This ranking is made up of the places of the individual athletes. Because of that, the time is secondary and the team tactic has a much bigger influence than in other races.
The course in Charlotte is similar to the European races: narrow place, many sharp turns, some steep hills and a short start straight. Because of that I was ready to use my elbows, how I was used to do it in European races. But I realized, that the races aren't run as hard as I expected. Against our expectations already the first kilometer was pretty fast, because Jacob  Choge (MT) and three Charlotte-runner tried to slip away from the main group. I started a bit slower than in the last race and ran the first three kilometer a bit slower than the front group in 22nd place. After that I started to make up some places and finished in 18th position, winning my first "All-Conference-Third-Team" honor. 
Unfortunately we missed our team goal, defending the third place from last year, by one place. The home team, Charlotte, showed a strong team performance. Although our team ran much stronger than two weeks ago, we finished fourth, 15 points behind the intended podium place. That big performance increase makes us really optimistic for our next meet in two weeks. We will run at the Regional Championships in Fayetteville, Arkansas for one of the qualification spots for the National Championships.
---